Post by Tarbo on Mar 16, 2011 21:25:28 GMT
No, not a new mountain biking forum set up by a group of people that Oggy has managed to upset

MTB Dribble is this year's take on the old 'Fall Guy' thread. So why the change ?
Well, the fall guy did exactly what it said in the title, it gave us pictures of
Ken
,
Redkite
, people falling off their bikes

And while it gave us all a lot of laughs, things naturally progress, so this year for your entertainment, I give you MTB Dribble.
So what exactly constitutes a dribble ?
Allow me to explain
drib•ble
drɪb əl Show Spelled
[drib-uhl]
verb, -bled, noun, -bling,
1.
to fall
2.
to drivel; slaver.
3.
to let fall in drops.
—Related forms
drib•bler, noun
'Dribble' is a word that is more commonly used by the 'Gnarly Crew', along with words such as 'Rad', 'Pinning it' and 'Dude'. Unfortunately the dribble is nothing to be proud of, and can often be heard as it is shouted, along with various other forms of abuse, at the rider who has not mastered the technique of staying attached to their bike in an upright position.
There are many variations on the dribble. A dribble does not have to be someone mid fall, but can be the result of that fall. It can be a series of pictures that tell their own story, it can be the comedy moment when everyone can see what's about to go wrong apart from the person on the bike (usually me ).
Let me give you a few examples –
And where better to start with Mr MBNW himself, and one of the original members of 'The Gnarly Crew'. During a mechanical on a recent XC ride, Oggy decided to use the time to practice some Rad moves, and to take the opportunity to show people just how skilled he was in riding over various objects, including rocks. Unfortunately for Oggy, things didn't quite go to plan which resulted in our first example, 'The Post Dribble Pose'
Obviously there is a slight variation on this dribble, where the dribbler does not wait to be photographed, but has a quick look over their shoulder in the hope that there isn't anyone in the vicinity with a camera pointed in their direction. Unfortunately, the look on Gwyneth's face tells the story that her dribble has been caught on camera for posterity.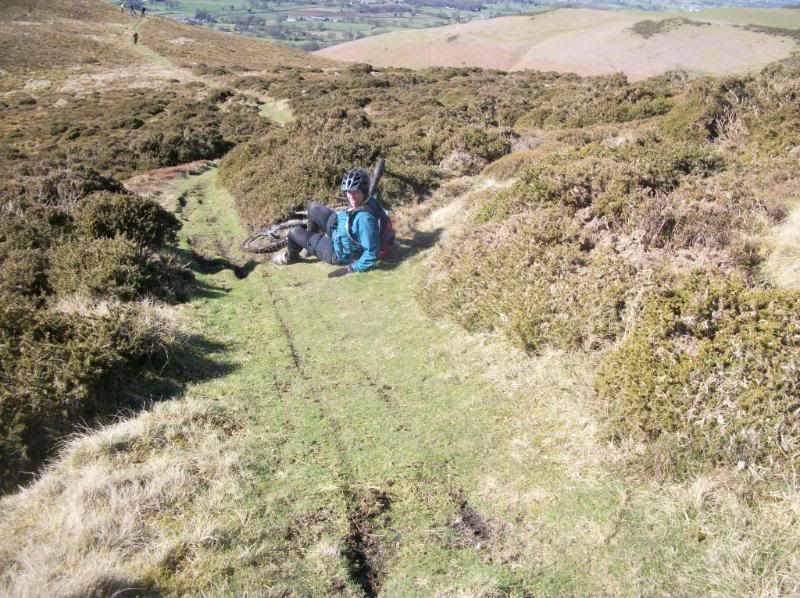 The final variation is the 'Pick yourself up quickly' dribble. We've all done it, fallen off and jumped to our feet as quick as we can in the hope that no-one noticed. But, just like Gwyneth found out, there is always someone there at the very moment you wish they weren't. Here we have Al, showing excellent agility for such a tall person, getting to his feet as quick as he can. Unfortunately, his bike gives the story away, and provides the proof that this was a dribble.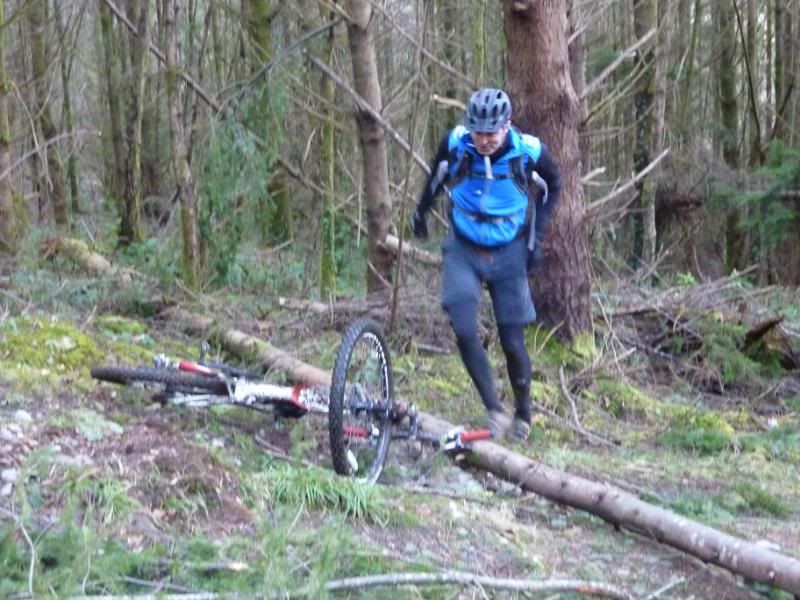 Our next example is of the dribble known as the 'Action Dribble', and is shot over a number of pictures which tell their own story. What starts out as a harmless picture of one of the members, rapidly turns into their worst nightmare as their world falls apart in front of their very eyes, (and ours too ;D ). Here we have
Leo Sayer
Smithy, demonstrating how he keeps his skin looking youthful and wrinkle free (his words) by bathing in the 'fountain of youth'. Unfortunately, he was so keep to get the magic water on his face that he forgot to get off his bike first. Luckily for us, Obi One Kenobi used
the force
to be in the right place at the right time to capture this classic example of how not to cross a stream.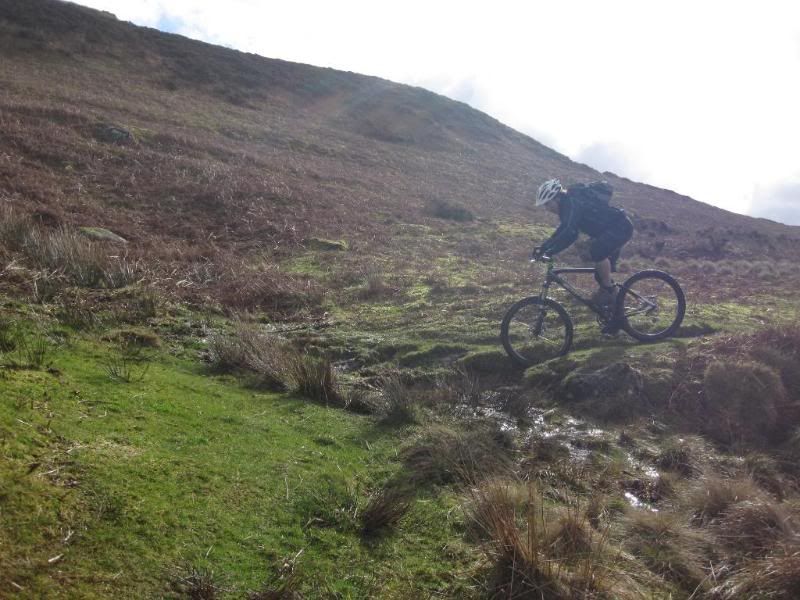 While on the subject of our very own Jedi Master, it seems that
the force
has deserted him on the next picture. So here we have Ken, demonstrating the 'Dribbler's Fall'. These are the pictures that capture the moment when it all goes horribly wrong and there is absolutely nothing you can do to retrieve the situation, except brace yourself and wait for the impact.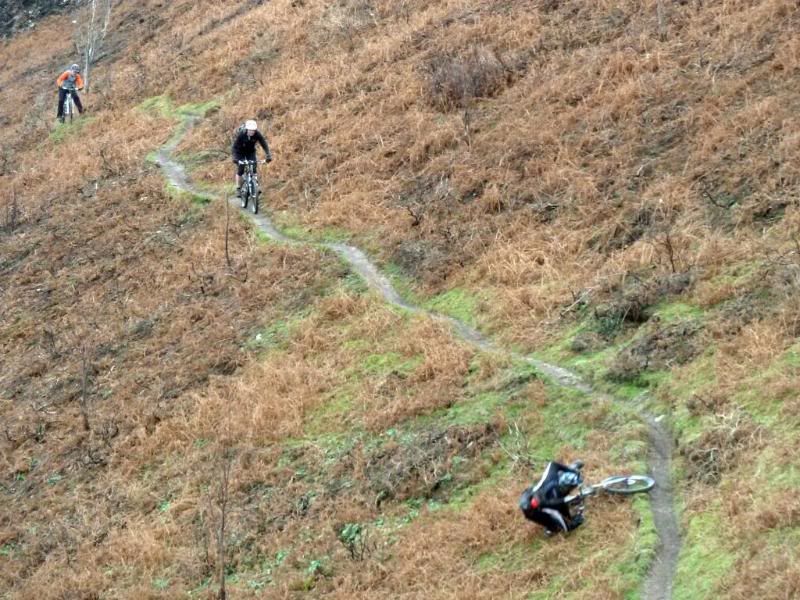 Our next picture just goes to prove the saying of 'what goes round, comes round' as we can clearly see the smirk on Smithy's face at Ken's misfortune. He even passes by without even a sidways glance to see if Ken has dropped any of his Wurthers Originals on the trail.
Obviously this is the most popular form of picture and is more likely to produce the winning entrant. With this in mind, most members who have an eye on winning this year's prestigious title will try and get into this category. An early entrant is Lloydy, with his leapfrog the handlebars dismount. Not content with imitating the frog, Lloydy tries the edge his bets by puffing out his cheeks to look like a bull frog too.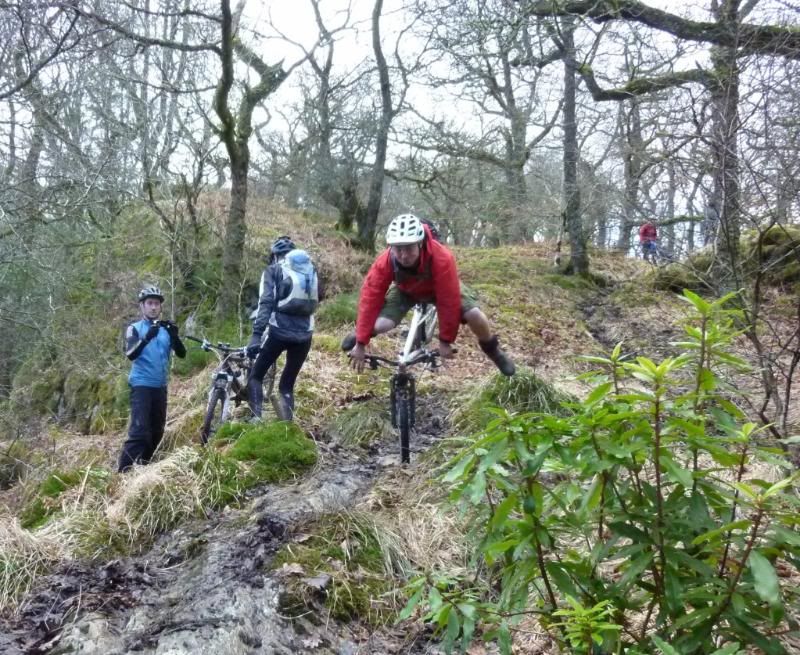 However, not content with his opening entry, he decides that he can do better, and in his pursuit of the perfect dismount, manages to fall off in the same place for a second time. A truly magnificent example of a complete dribbler
And to ensure that the girls are represented in this category, we have Sally demonstrating the jack knife dismount. Once again, the look on Sally's face tells a story of all its own. A story of terror at what is about to happen next, and there is nothing she can do about it ;D
Once again, the winner will be decided by you, the voting public. Voting will be held at the end of the year, with the winner determined by a poll of members. The
stupid bugger
worthy winner, will then have to wrestle last year's prize away from Tim. Not an easy feat.
Anyway, to ensure fairness and to make sure everyone is in with a winning chance, there are some basic rules:
1) Only genuine pictures, taken by the submitter or riding buddy, are allowed to be entered. No trawling the internet for pictures.
2) Entry is open to all members of this Forum.
3) The judges decision is final and no correspondence with be looked into.
4) Closing date for entries is 31/11/2011.
5) Pictures must be taken in 2011. No past glories allowed.
6) Only photographic evidence will be accepted. If there's no picture, it didn't happen !
7) Pictures do not have to be from a ride planned via this site, but obviously if we know the participant we will find it more amusing artistic.
8) Pictures that have already been posted in the 'Rides' section are valid for this competition, as long as they were taken in 2011.
9) No girlie excuses will be accepted from the victim as to why they fell. A fall is a fall, MTFU, and just accept your ego was bigger than the drop / jump / rocky section you were attempting to ride down.
So, come on people, let's get dribbling