Post by iggy on Jun 28, 2013 9:59:57 GMT
Thought I'd post a few pics up from our excellent week with
bike-bulgaria.com/
Four of us stayed in Obzor a small resort on the Black Sea about an hour North of the 'Benidorm of the Balkans' that is Sunny Beach.
We were based on the outskirts of Obzor surrounded by vineyards staying in a basic but comfortable wooden lodge.
Ian who runs/owns
bike-bulgaria.com/
(he also works at LDG during the winter) was amazing. Helped by young George from Exeter Uni who is working the summer for Ian, were expert guides and could not do enough for us.
I can't recommend them enough, we did nothing but laugh all week and ride the most deserted trails I've ever ridden.
The last day saw us do 28 mile all offroad with 3000ft of climbs and in the 6 hours we were out we saw a Shepherd....thats it!
In fact for most of the week we saw no cars, no people but lots of wildlife and views to die for. Getting chased by wild sheepdogs, disturbing a family of huge wild boar (very scary) Eagles, wild horses, Hares, and literally millions of butterflies.
Now I'll confess, before going I thought it was going to be a bit tame for my kind of riding as it is purely XC, nothing gnarly but I soon came to realise that I'd forgotten how much I love all day XC epics and there was always a few 'hairy' moments every day.
The riding varied as well, mainly forest the 1st two days, then a couple of coastal route days and the final full day was a an epic ride inland which combined everything, long open climbs, singletrack, rock gardens, and a fast 3 mile descent on a rutted 4x4 track that had us wooping all the way down. We had a few hours to kill on the last day so Ian drove us to the highest point so we could do the 3 mile descent again....UPLIFT - Bulgarian style
The area we rode in is about the size of the whole of N Wales and there must be less than a 1000 people there and just a handful of proper roads, there are tracks everywhere and open access. It was like having the Clwyds, Clocaenog & Gwydyr forest all to ourselves!
So if anyone fancies it next year have a word with Ian at Llandegla over the winter ( he's the larger than life scouse fella who's normally laughing at the tea counter

) he & George worked incredibly hard to make sure WE had an awesome time, from using the jetwash in his back garden and his extensive bike workshop for tweeks to the bikes to the miles he shuttled us around.
Also taking us to all the best bars/restaurants eating some of the best salads ever and so so cheap.... by Day 3 me & Trace had barely spent £50 each! 2 course meals were about £5, beer 90p/pint, double Vodka 70p (a small in Bulgaria!)
One final thing... On the last night we went to Ian's 'local' bar. Now, he lives in the middle of nowhere in a proper rustic village. Horse and cart are the transport of choice, mainly dirt roads. The bar was like something from a medieval film set and is used by all the local hunters with dead things adorning all the walls etc. We were treated to the best food of the trip and it will stay with us for a long time....simply wonderful.
so some boring pics for ya.....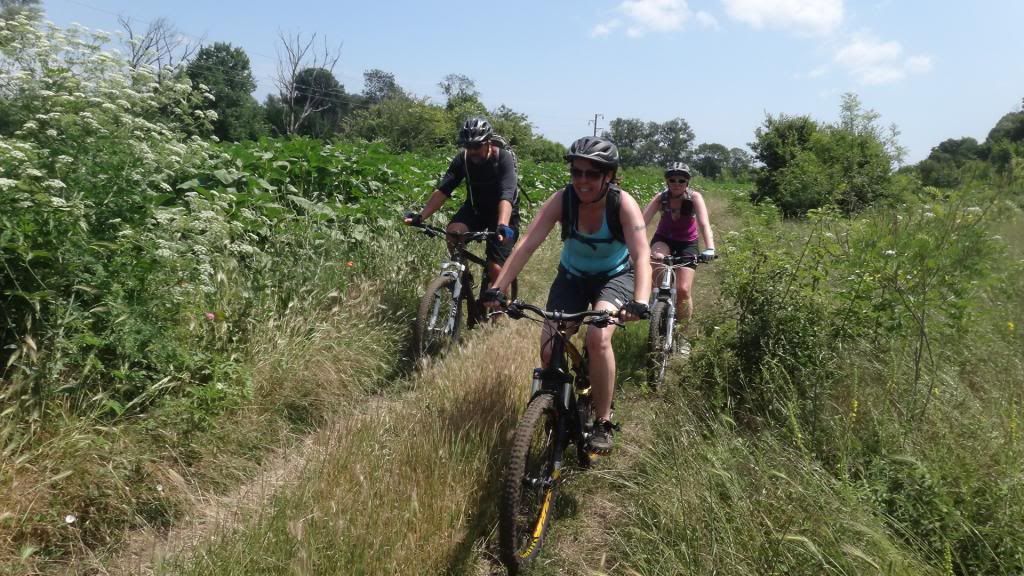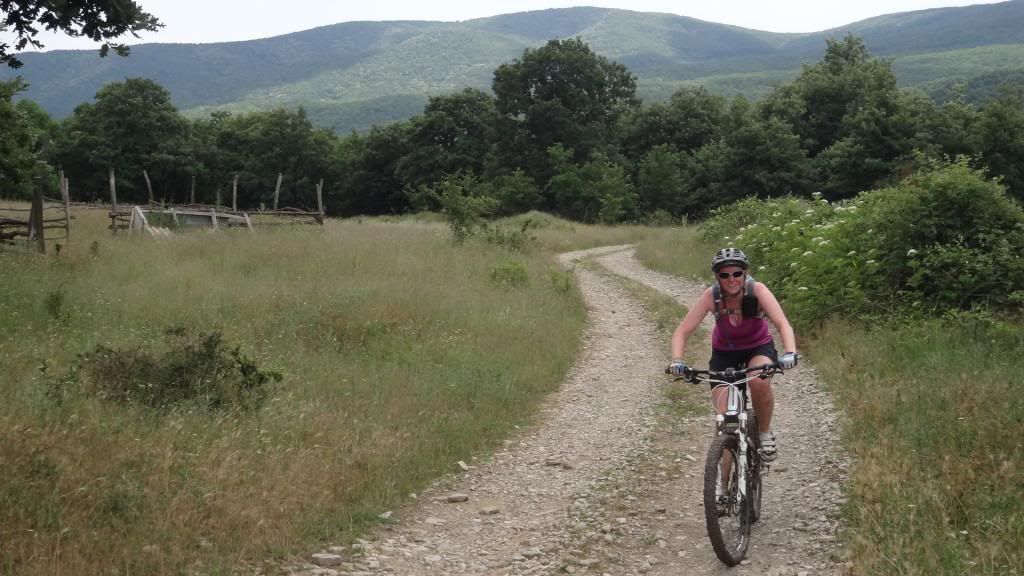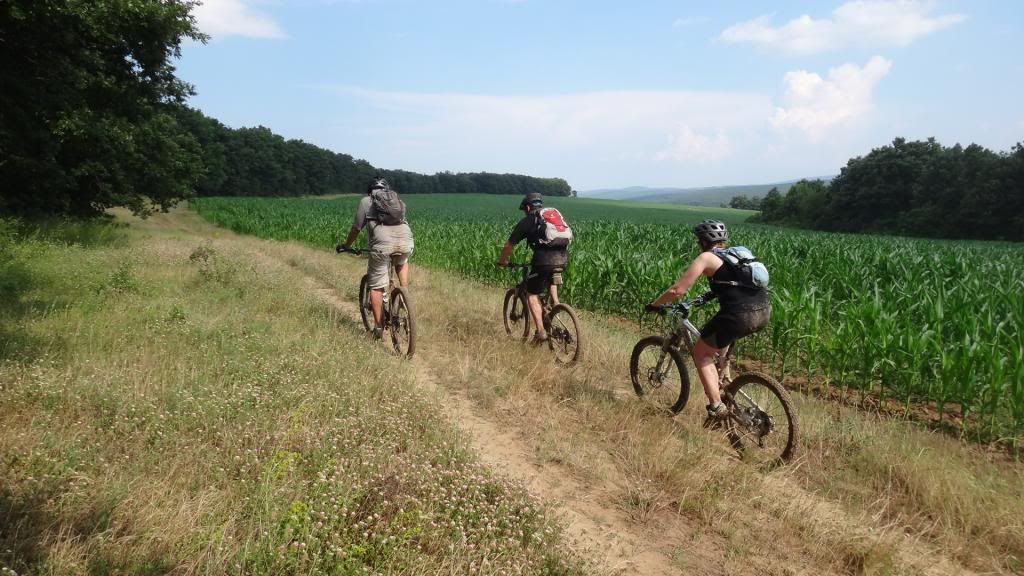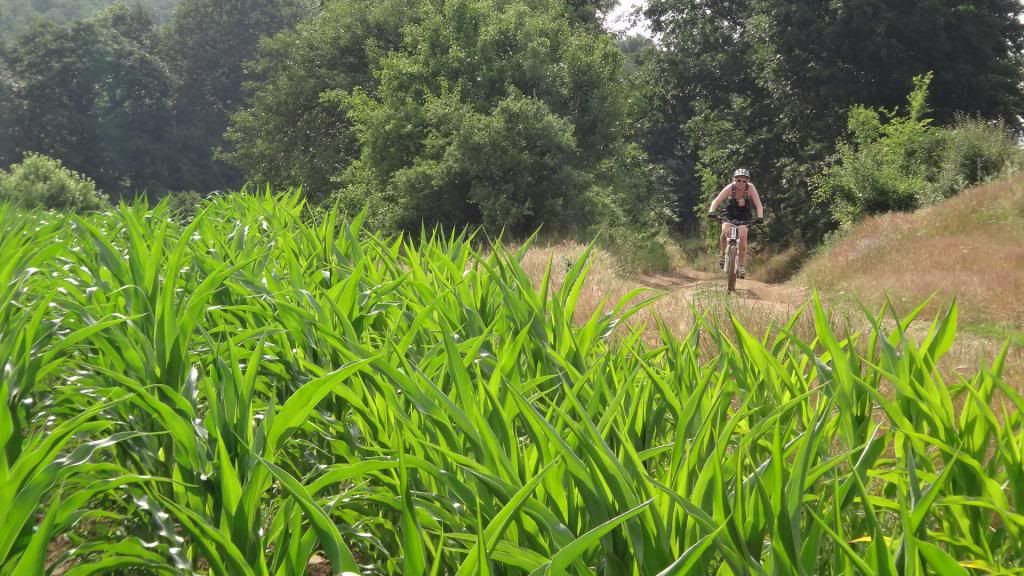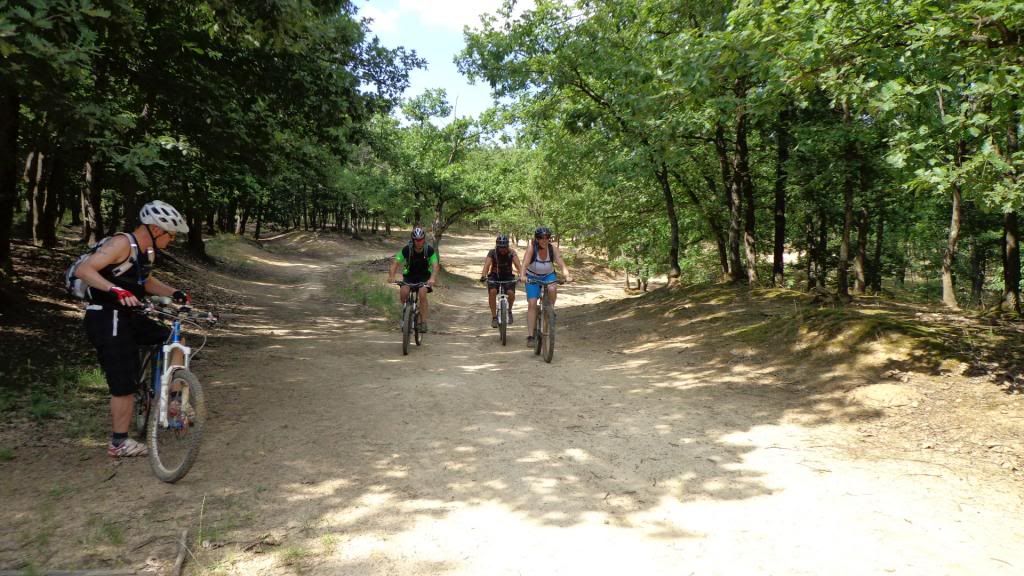 A car sized pothole, repair Bulgarian style.... apparently it has been like that for 3 years!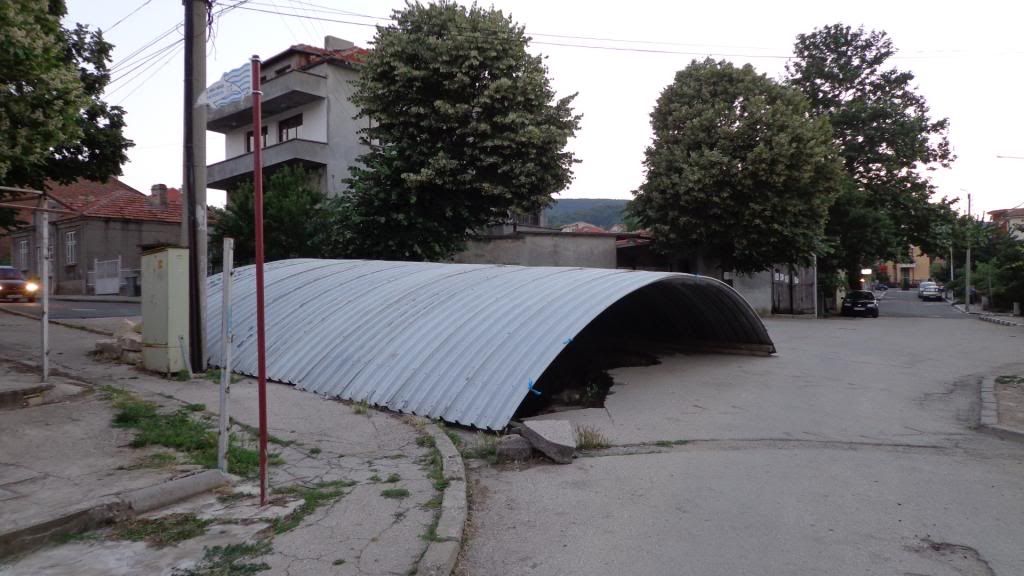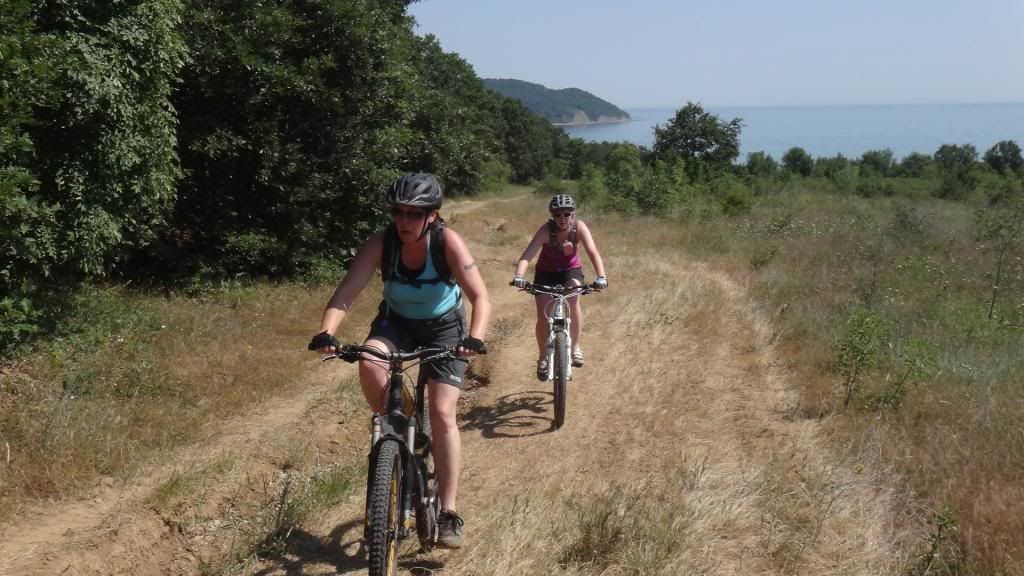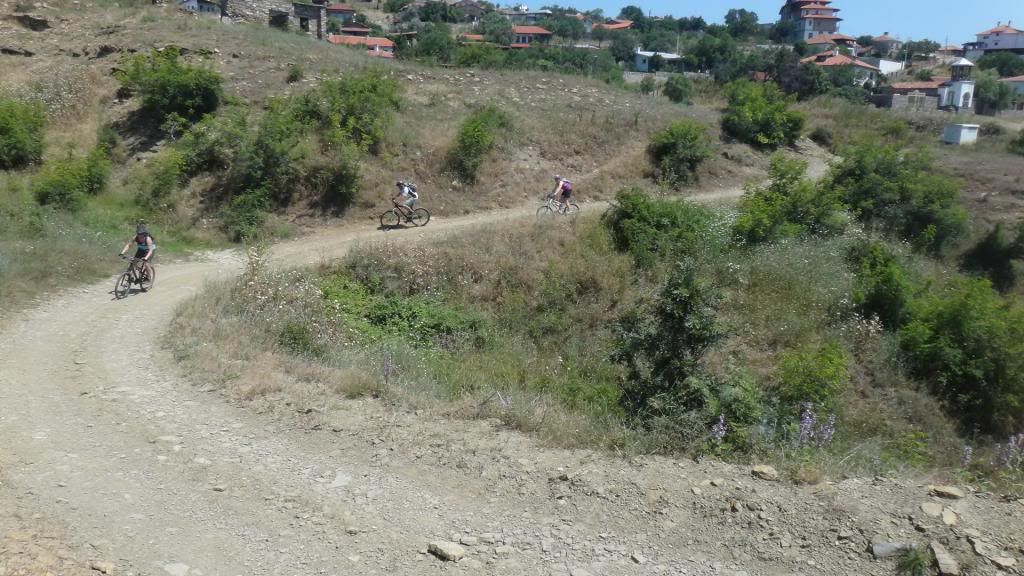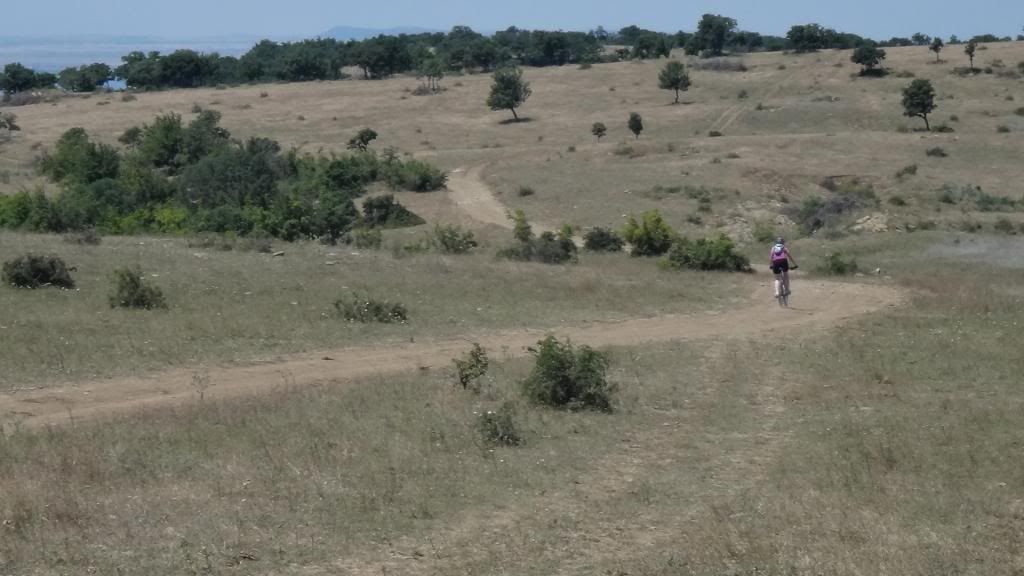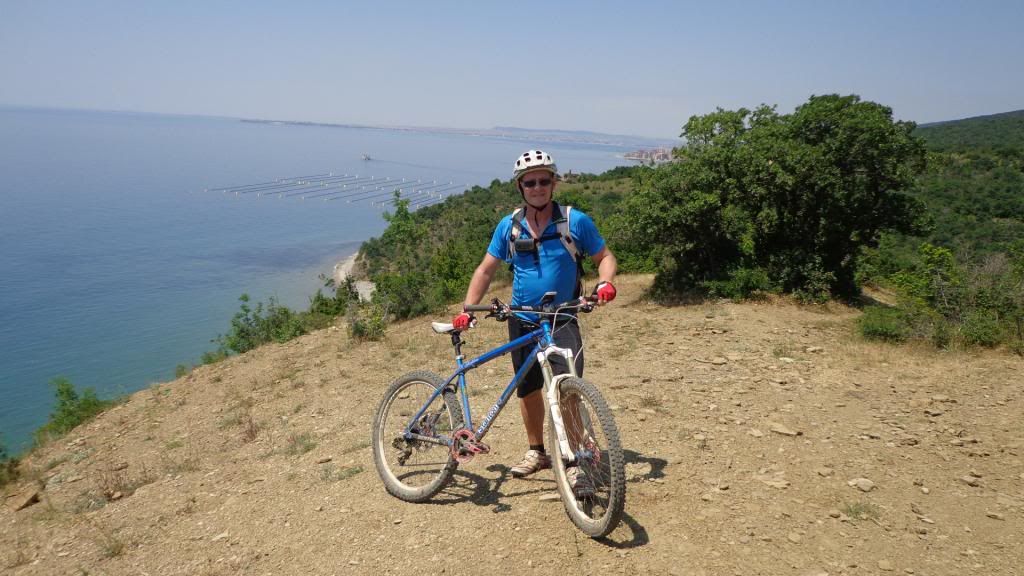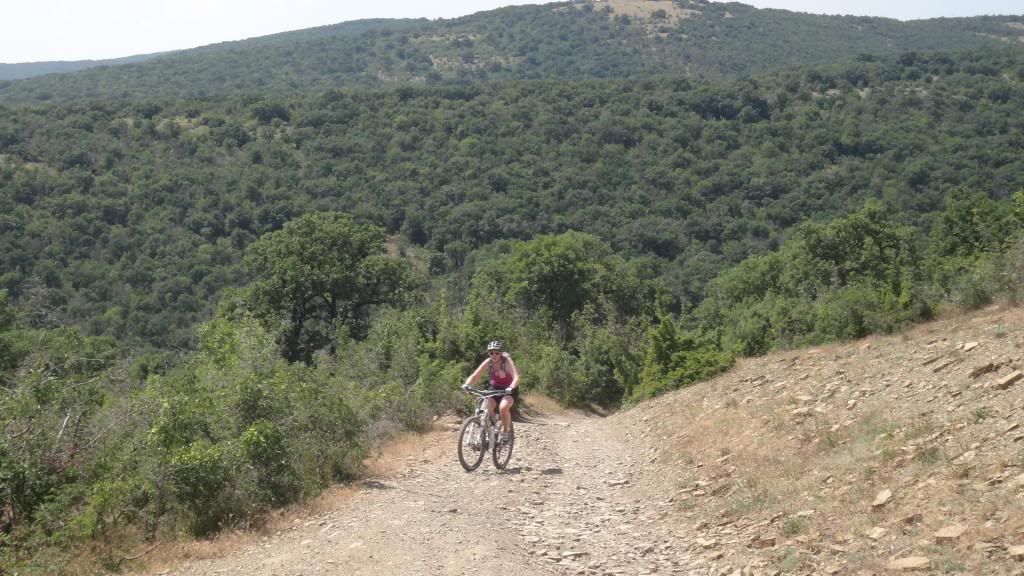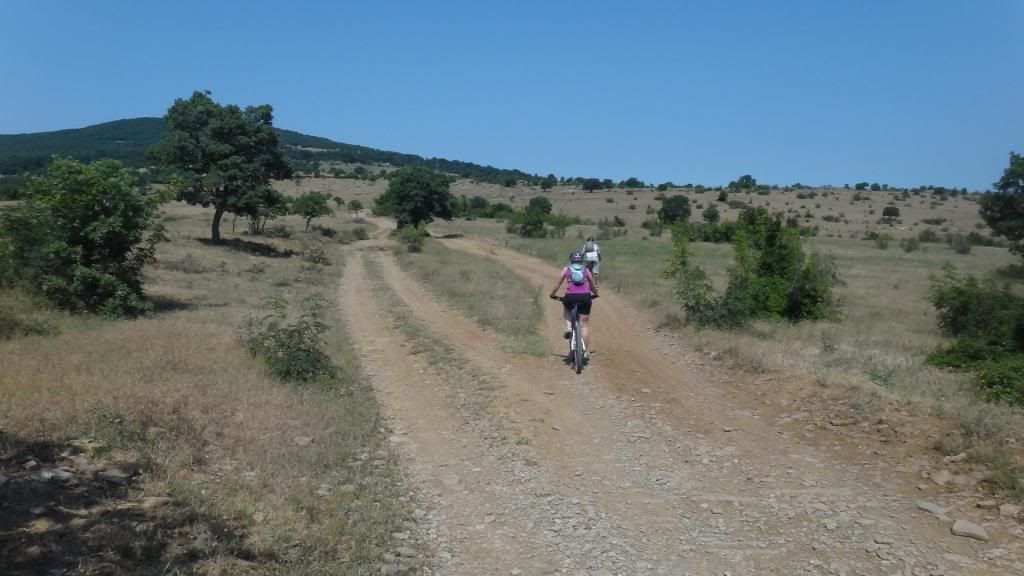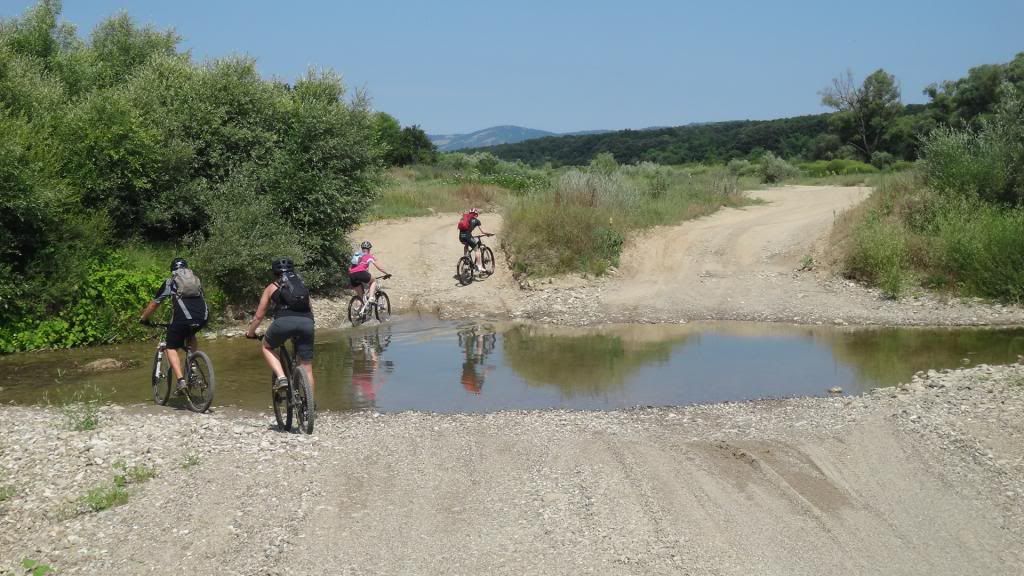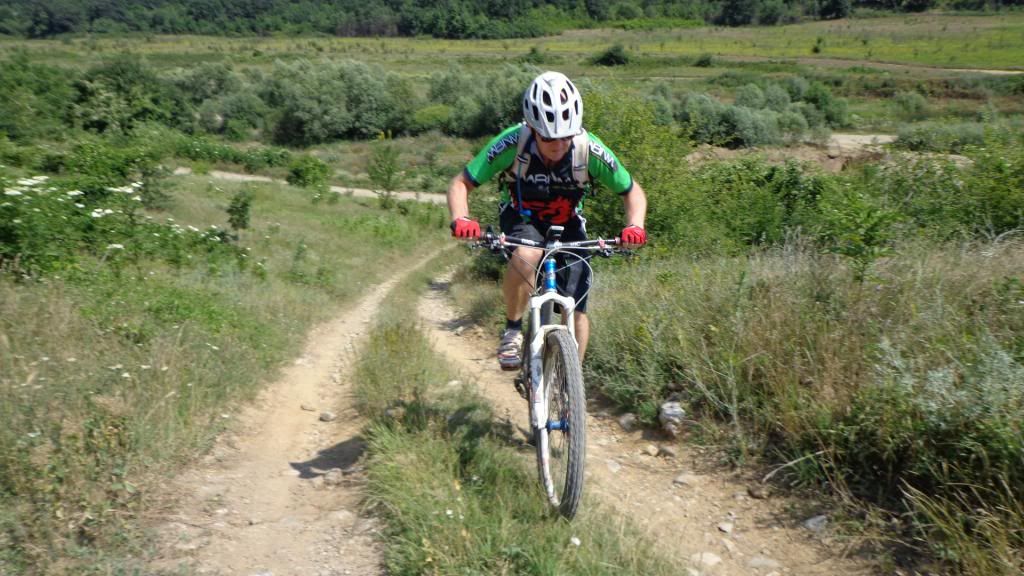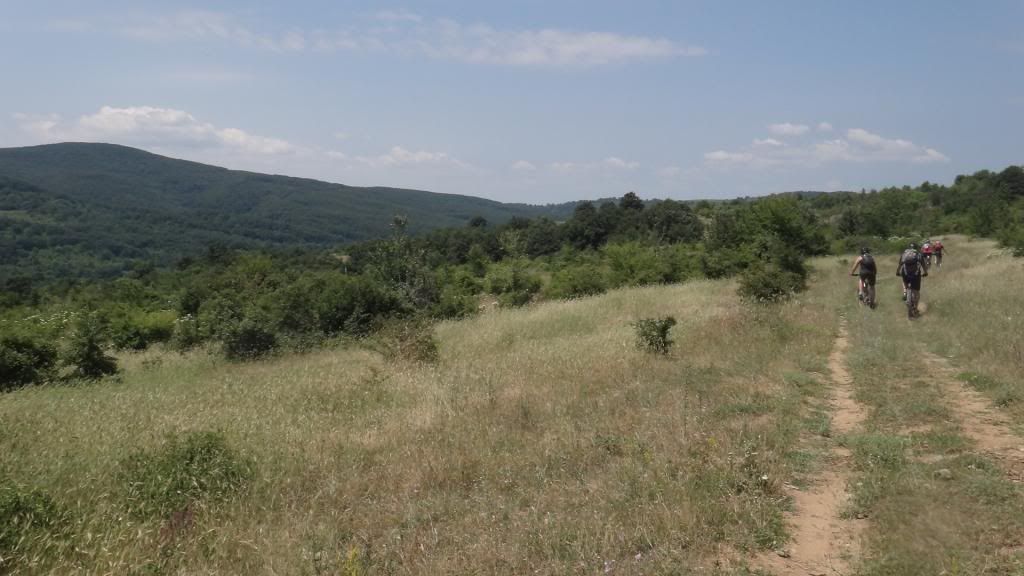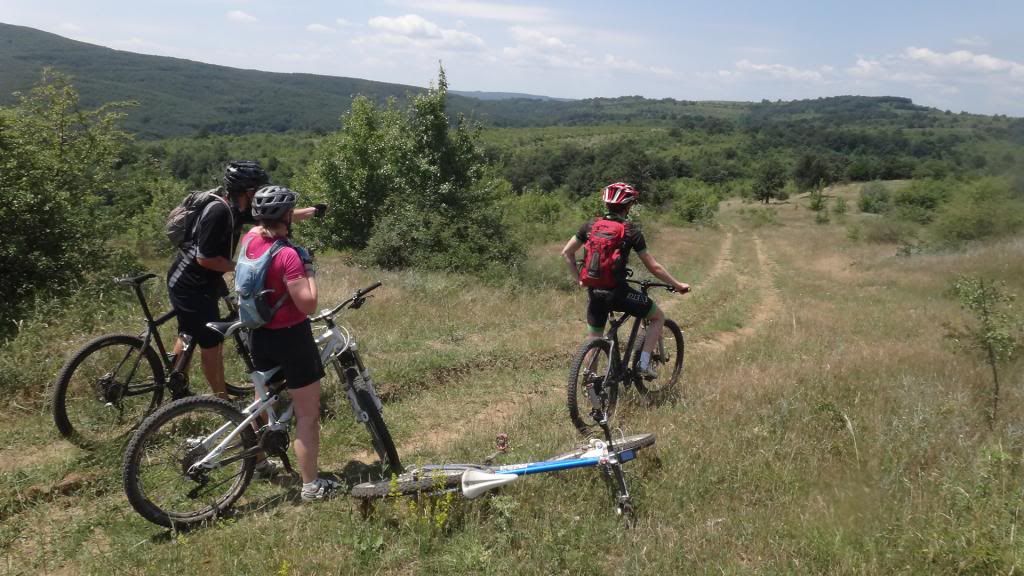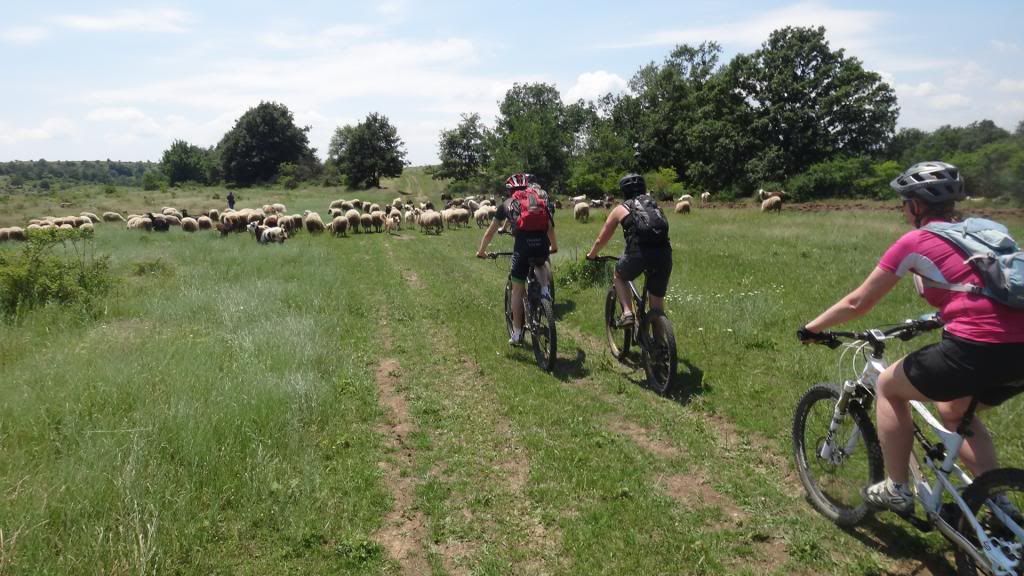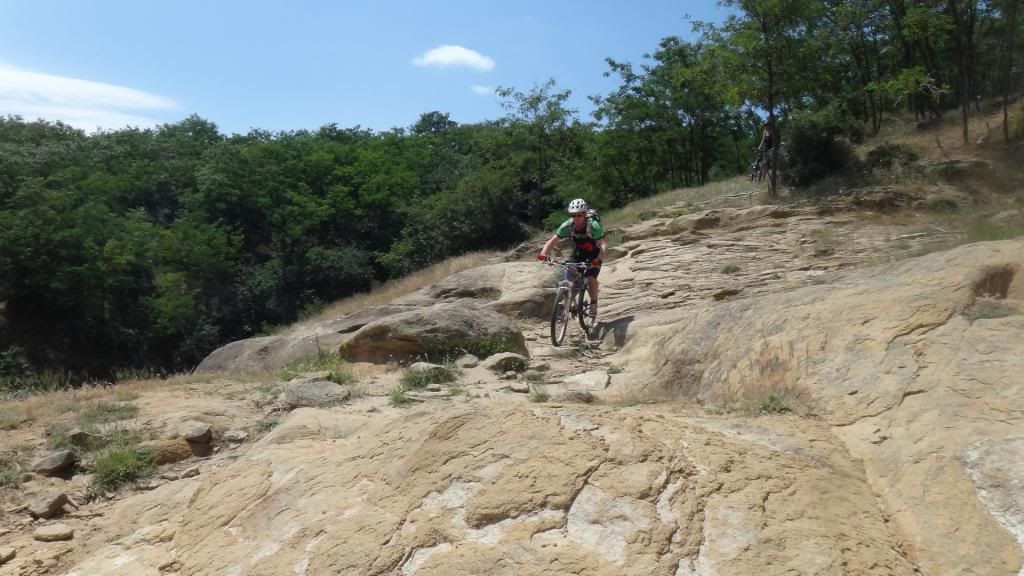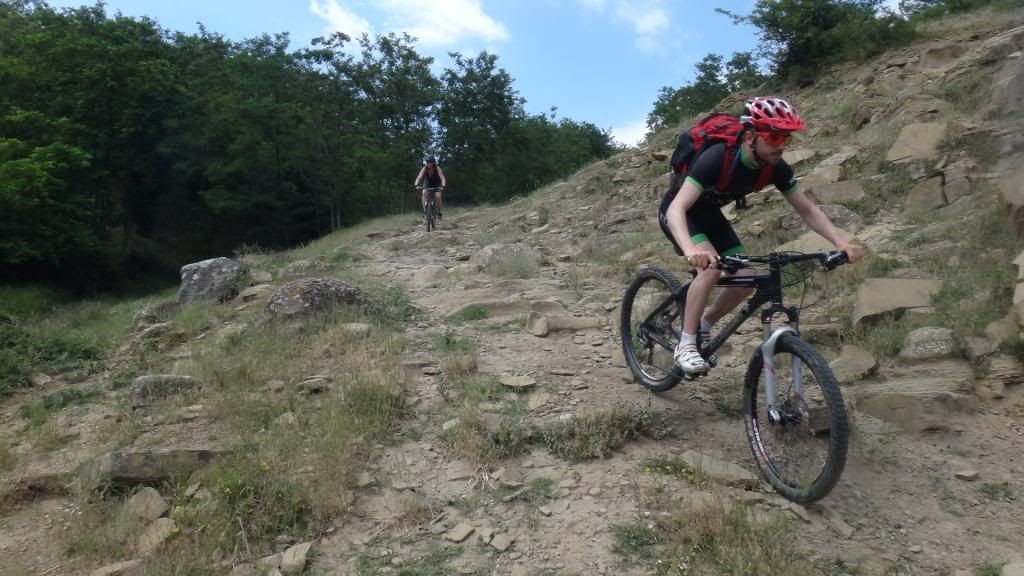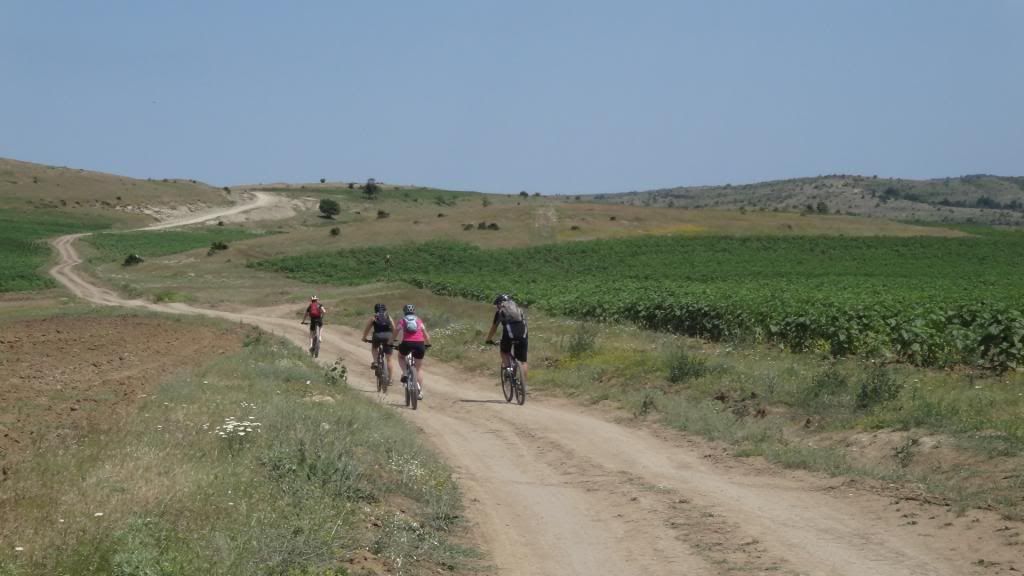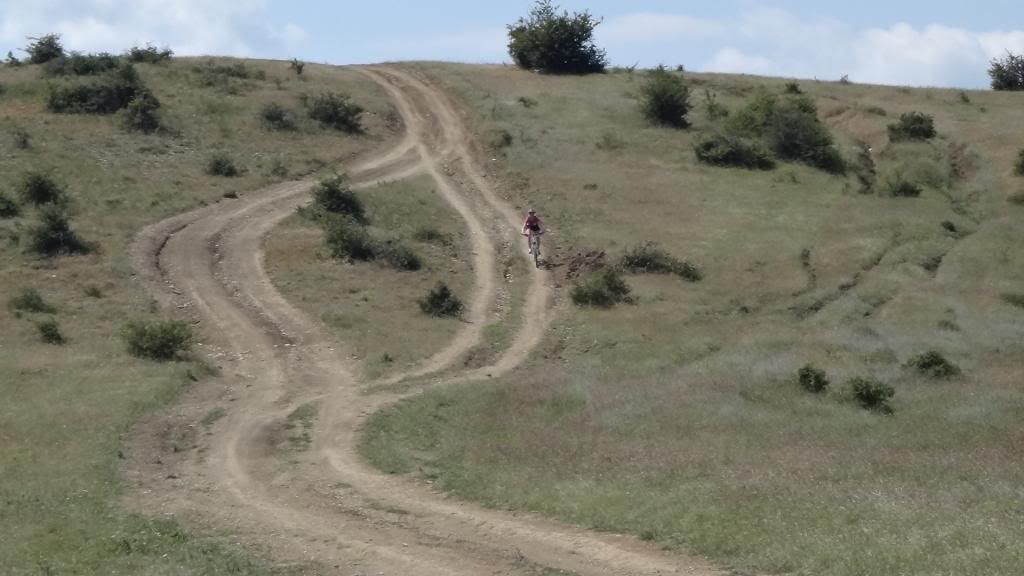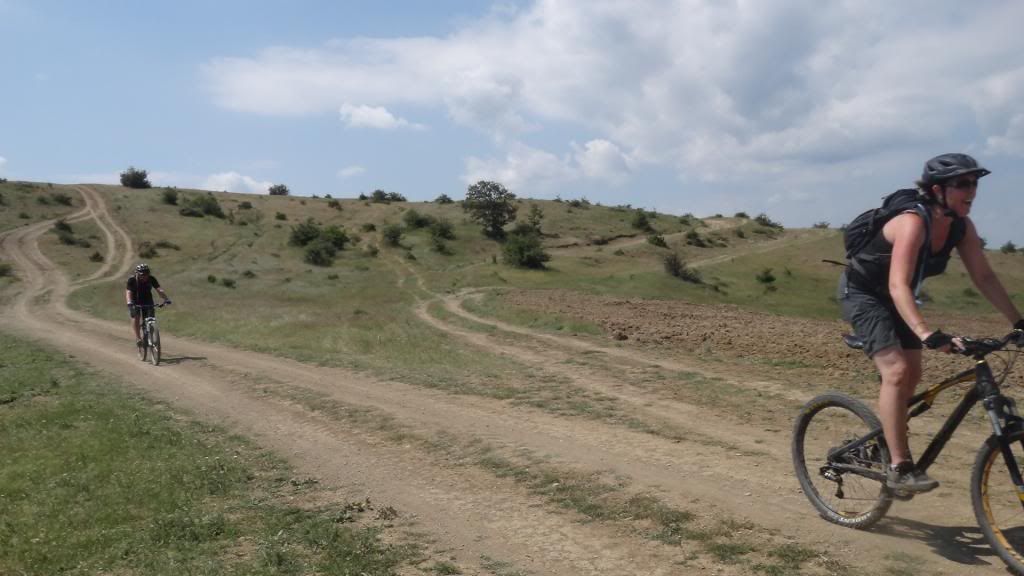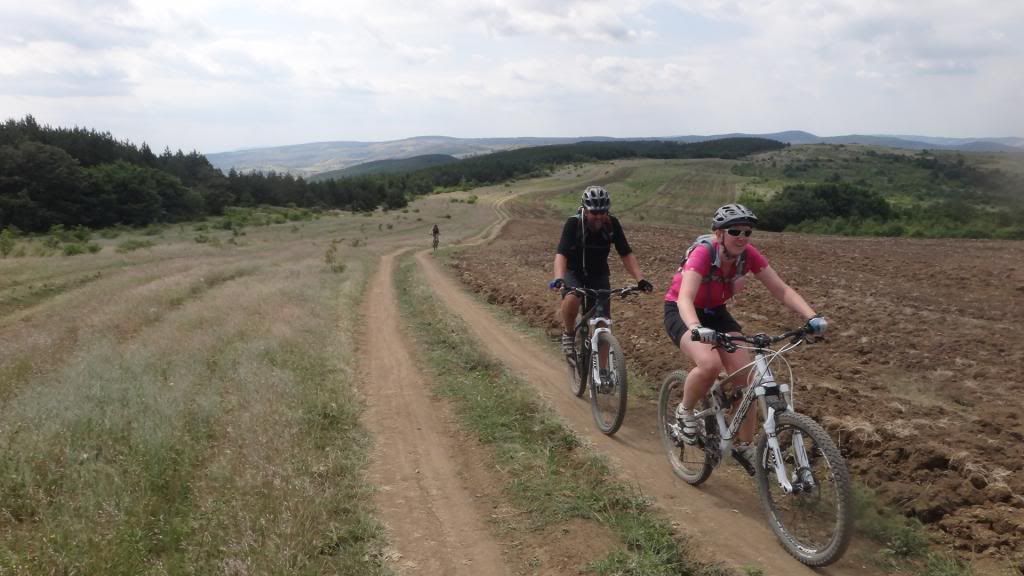 ... in the absence of any bananas, Sue getting saucy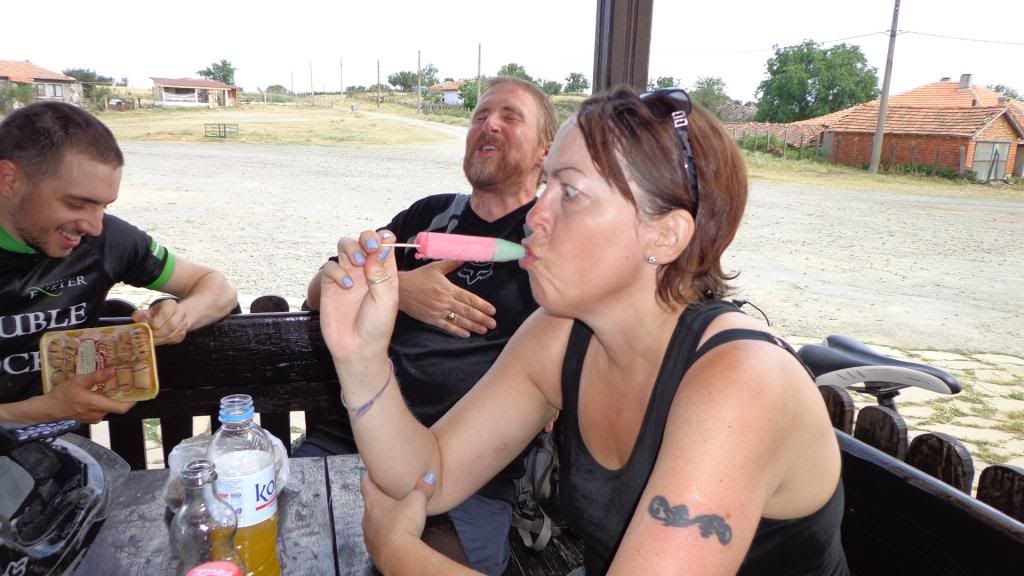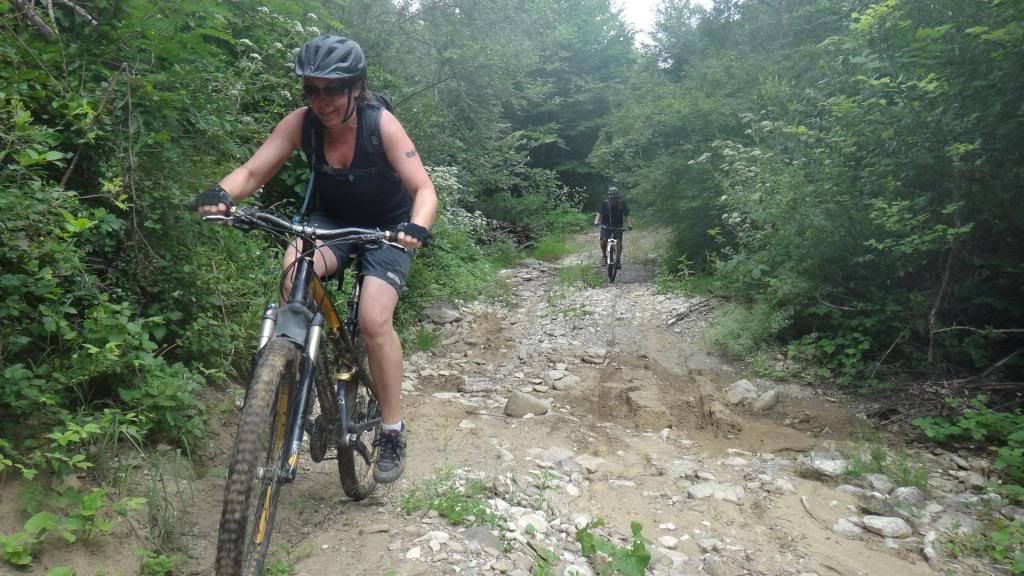 Ian's village local bar
After disturbing a family of 4 wildboar we were relieved that they were content to leave us alone after seeing the tusks on this fella on the wall of the bar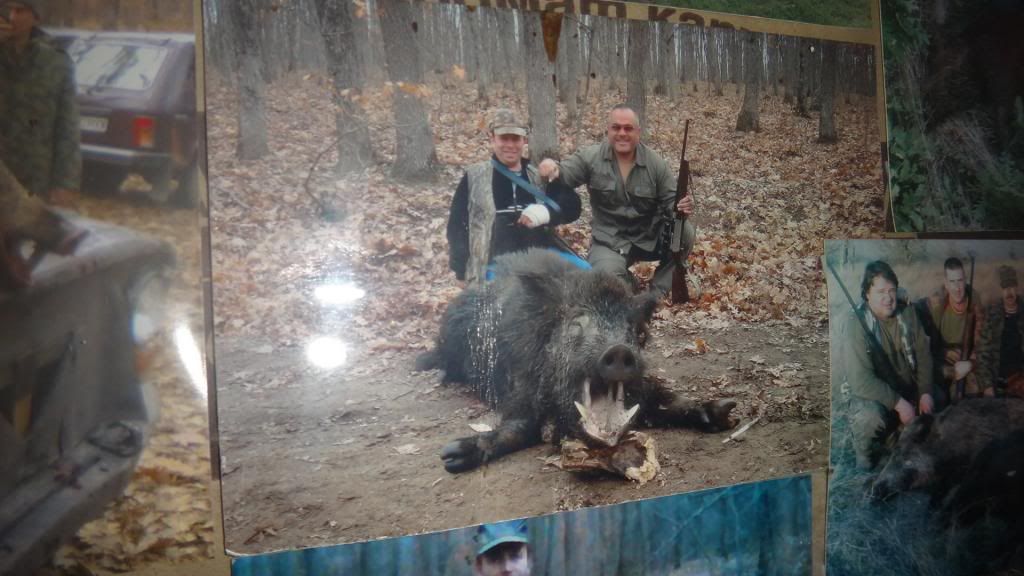 Rush hour Bulgarian style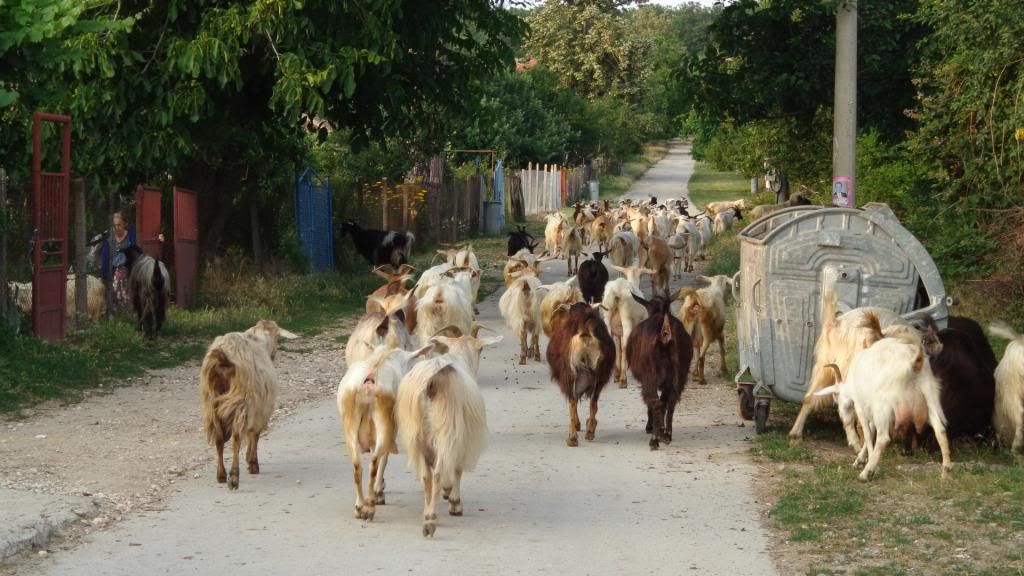 and finally after too many 70p double vodka's these pair insisted on driving home!