Post by Tarbo on Feb 15, 2010 22:26:53 GMT
Does your riding buddy fall more times than a premiership footballer in an opponent's penalty area ?
Have they gone down so fast, you thought they'd been shot by an SAS sniper hiding in the woods ?
Well, now's your chance to put them to shame for their pitiful bike control, lack of riding ability and total disregard for their own self preservation. Because new for 2010 is the "MBNW – Fall Guy Award"
This award is to be presented to the rider who is captured on camera performing the best unintentional dismount. Voting will be held at the end of the year, with the winner determined by a poll of members. The
stupid bugger
worthy winner, will then receive a trophy in recognition of their efforts to ride something totally out of their league. (More than likely a botched, home made thing that will no doubt end up in the local skip)
Rules:
1) Only genuine pictures, taken by the submitter or riding buddy, are allowed to be entered. No trawling the internet for pictures.
2) Entry is open to all members of this Forum.
3) The judges decision is final and no correspondence with be looked into. (Unless of course, supported by a bribe.)
4) Closing date for entries is 31/12/2010.
5) Pictures must be taken in 2010. No past glories allowed.
6) Only photographic evidence will be accepted. If there's no picture, it didn't happen !
7) Pictures do not have to be from a ride planned via this site, but obviously if we know the participant we will find it more
amusing
artistic.
8) Pictures that have already been posted in the 'Rides' section are valid for this competition, as long as they were taken in 2010.
9) No girlie excuses will be accepted from the victim as to why they fell. A fall is a fall, MTFU, and just accept your ego was bigger than the drop / jump / rocky section you were attempting to ride down.
To start the competition, and prove there's no favouritism or prejudice, here's a picture of me doing my Superman impression during the 'Coed Y Brenin – Off Piste' ride last month. This was taken by Oggy who just happened to be standing "In the right place, at the right time". Nothing to do with Ady, stopping abruptly in front of me, forcing me to take the steeper, unridable section of steps.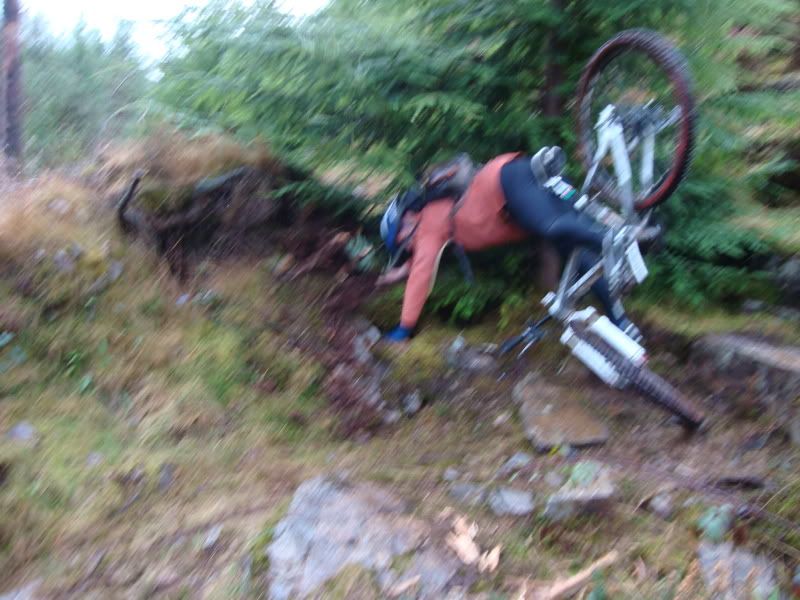 The second is an early contender for the title, Scott (Taylor993), going arse over tit during yesterday's 'Marin – Off Piste' ride. Some pictures just speak for themselves